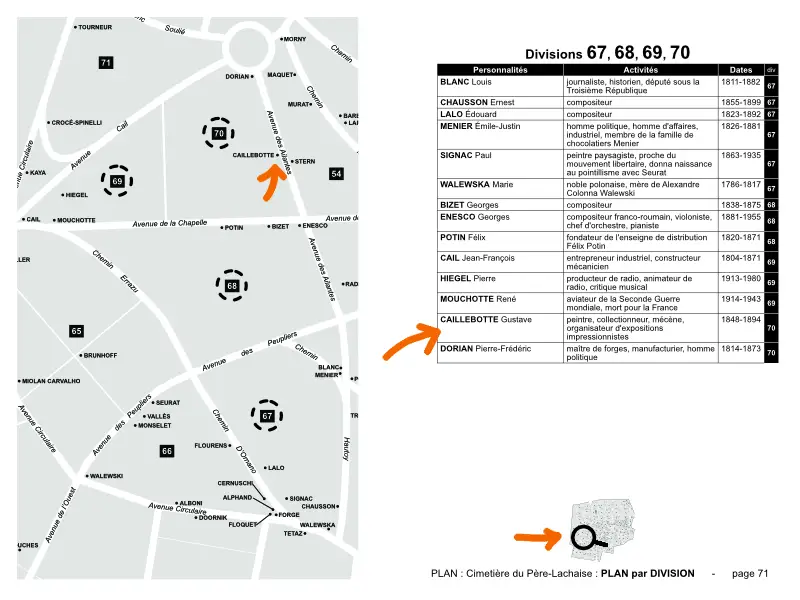 Père-Lachaise cemetery, also known as the « Cimetière de l'Est », is the largest cemetery in Paris, covering 43 hectares. It is one of the parks and gardens managed by the Paris City Council. It's a unique place for meditation and reverie, steeped in art, culture and history, as you stroll through its maze of stones and vegetation.
More than 3 million people from all over the world visit it every year.
There are 70,000 burial plots. Many famous people have been buried here, and we'll be talking about them in later articles: artists, musicians and singers (Frédéric Chopin, Rossini, Jim Morrison, Edith Piaf, Alain Bashung, etc.), writers (Molière, Balzac, Colette, Marcel Proust, Jean de la Fontaine, Oscar Wilde, etc.), statesmen, soldiers, historians, etc.
The setting of Père-Lachaise cemetery is exceptional, which is why this site will help you to get to know it better, to understand it better, and perhaps… to prepare for your visit there !
This website is not the official website of the Mairie de Paris, but we do our best to provide you with as much practical information as possible.